The Highland Trail 550 is the brainchild of Alan Goldsmith, the granddaddy of UK long-distance mountain bike racing, and a finisher of the Tour Divide, Arizona Trail Race and Colorado Trail Race, as well as developing the brutal Lakeland 200 route south of the Border.
The 'HT550', as it's come to be known, takes in (you guessed it) 550 miles of tracks, trails the occasional bit of hike-a-bike as it travels around the Highlands. Starting from Tyndrum in the south-west, it traverses historic routes like the Corrieyairack Pass in the Monadhliath on the way north to within spitting distance of Ben Hope, Scotland's most northerly munro. As it turns south things only get harder, with the west coast adding technical singletrack and plenty of climbing. When it rejoins the Great Glen at Fort Augustus the route joins the Great Glen Way to Fort William, before taking the West Highland Way south in the shadow of Ben Nevis, across the bleakness of Rannoch Moor, returning you to Tyndrum wearier but much richer for it. It passes through mountains that vary in character by the hour, and the weather changes even quicker than that.
It's only natural that folks travel from all over the world to come and ride such an iconic route, and we often get asked for tips and advice. The Backcountry team have ridden sections of the route in all weathers and seasons, and team member Huw has completed it in less than 4 days! From tourers to out and out racers, this wee guide is a distillation of the things we wish we'd known before setting out to ride it…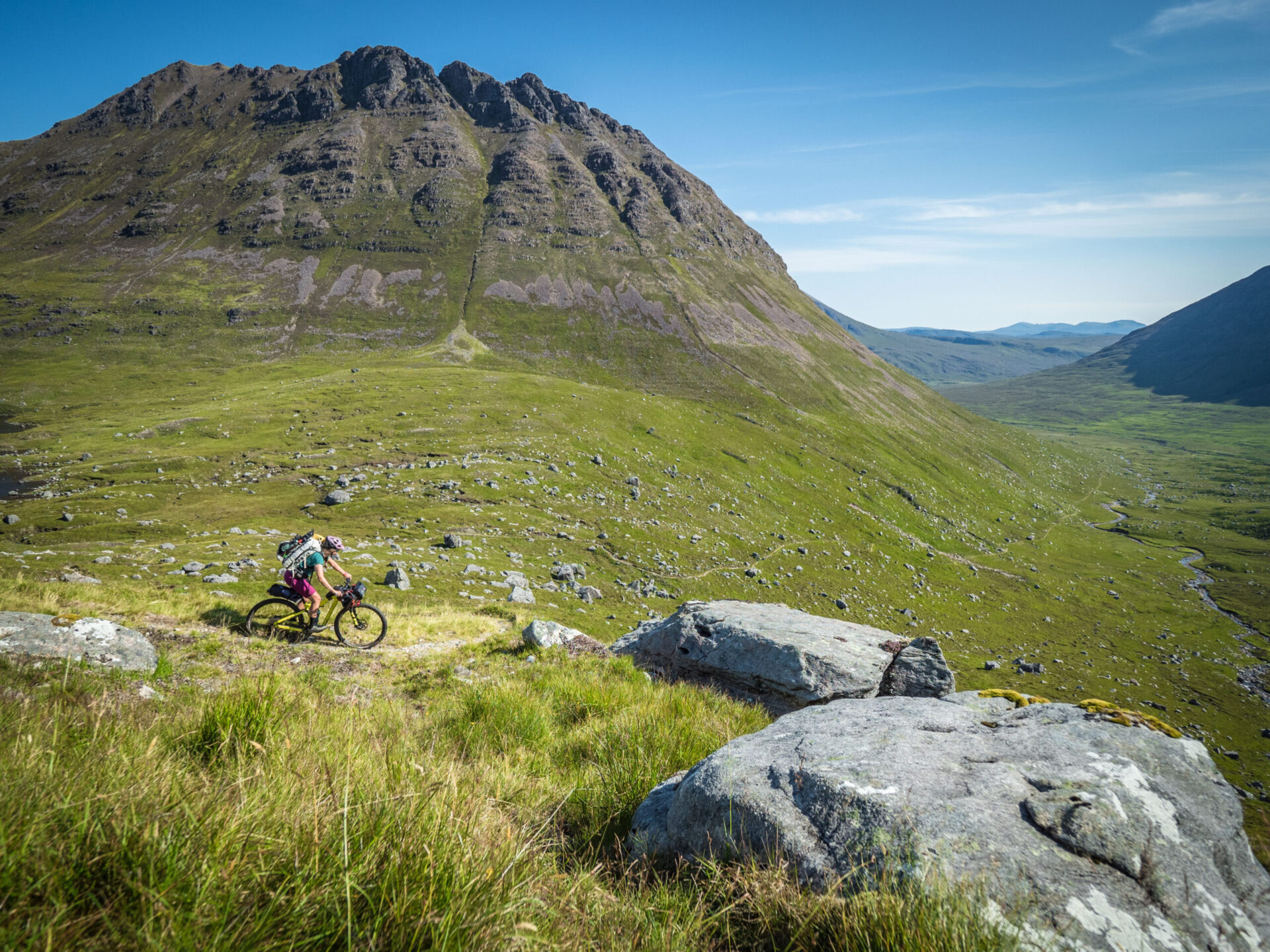 What bike?
This is one of the most common questions we come across. The HT550 throws a real variety of terrain at riders, from singletrack roads to technical singletrack and everything in between. Folks ride the route on all sorts of bikes, spanning the spectrum of modern adventure bikes. Drop bars, fat tyres, rigid and fully suspended bikes have all made an appearance.
The good news is that your average 'mountain bike' will be suited to the HT550 just fine, as every bike has its pros and cons somewhere along the route. Higher volume tyres in the 2.6-3.0" range are a plus on the rougher sections, as long as they're still reasonably fast-rolling, and can be paired with a rigid frame and fork or a suspended setup. Be aware that a full-suspension frame can reduce frame bag space, pushing heavy gear out into places that we don't want it to be, and affecting ride stability. The main mistake we've seen in terms of bike choice though is the use of skinny tyres (under 2.35"ish) because they're 'fast' — in reality, under the weight of gear and food they're puncture-prone and jarring. An uncomfortable ride is rarely fast or pleasant, and while the HT550 contains a chunk of 'gravelly' surfaces, it's definitely a mountain bike route!
BC team members Annie and Huw will be riding the HT550 this summer on their Salsa Spearfishes, which combine short travel with a lightweight frame and space for a large frame bag — after some tinkering over previous years this is a pretty ideal setup.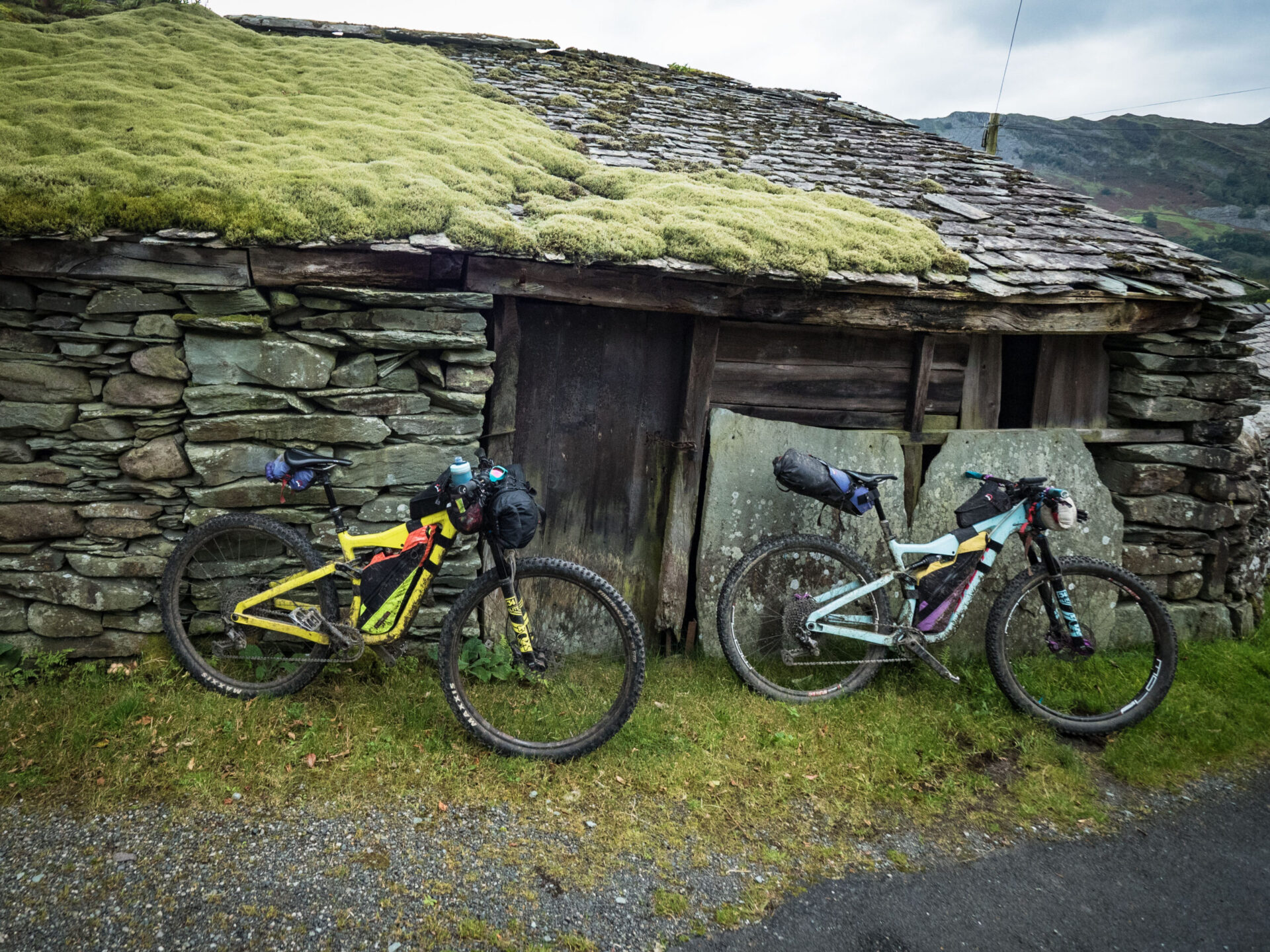 Let it rain
It will rain. The west coast especially is notorious for its fickle weather, and while May might provide some early summer sunshine, it might just as easily throw hail at you! Of course, we all know to pack a waterproof jacket, but there is a world of difference between throwing your jacket on to get you the five miles home, and keeping it on for the third consecutive day…
A robust, hooded waterproof jacket is definitely a must on the kit-list, and to that we would add a set of waterproof trousers. Whether or not you mind getting a wet bum, rain and spray soaking your layers has a huge chilling effect — it's unpleasant at first, but six hours later a jacket alone is not going to prevent hypothermia. For the very best weather protection, we've been using Paramo's lighter weight jackets for the last six months, and have come away very impressed by their ability to keep out rain and shift sweat, hour after hour and day after day. They're a little bulkier, but if you want to be dry at the end of a wet day we'd go so far as to say that their Analogy fabric is the best we've ever used.
When packing for adventures or long races, we tend to think of packing a full 'storm suit'. That includes waterproof jacket and trousers, but also a pair of waterproof mitts (these make a HUGE difference) and a water-resistant insulating layer to wear under the jacket, like fleece or Primaloft that will continue to keep me warm when it (inevitably) gets wet. It might also include a pair of neoprene overshoes to cover shoes. That way, you have a suit that covers your entire body, and will keep you drier and warmer, able to keep moving whatever the weather, It's a safety thing as much as a comfort thing.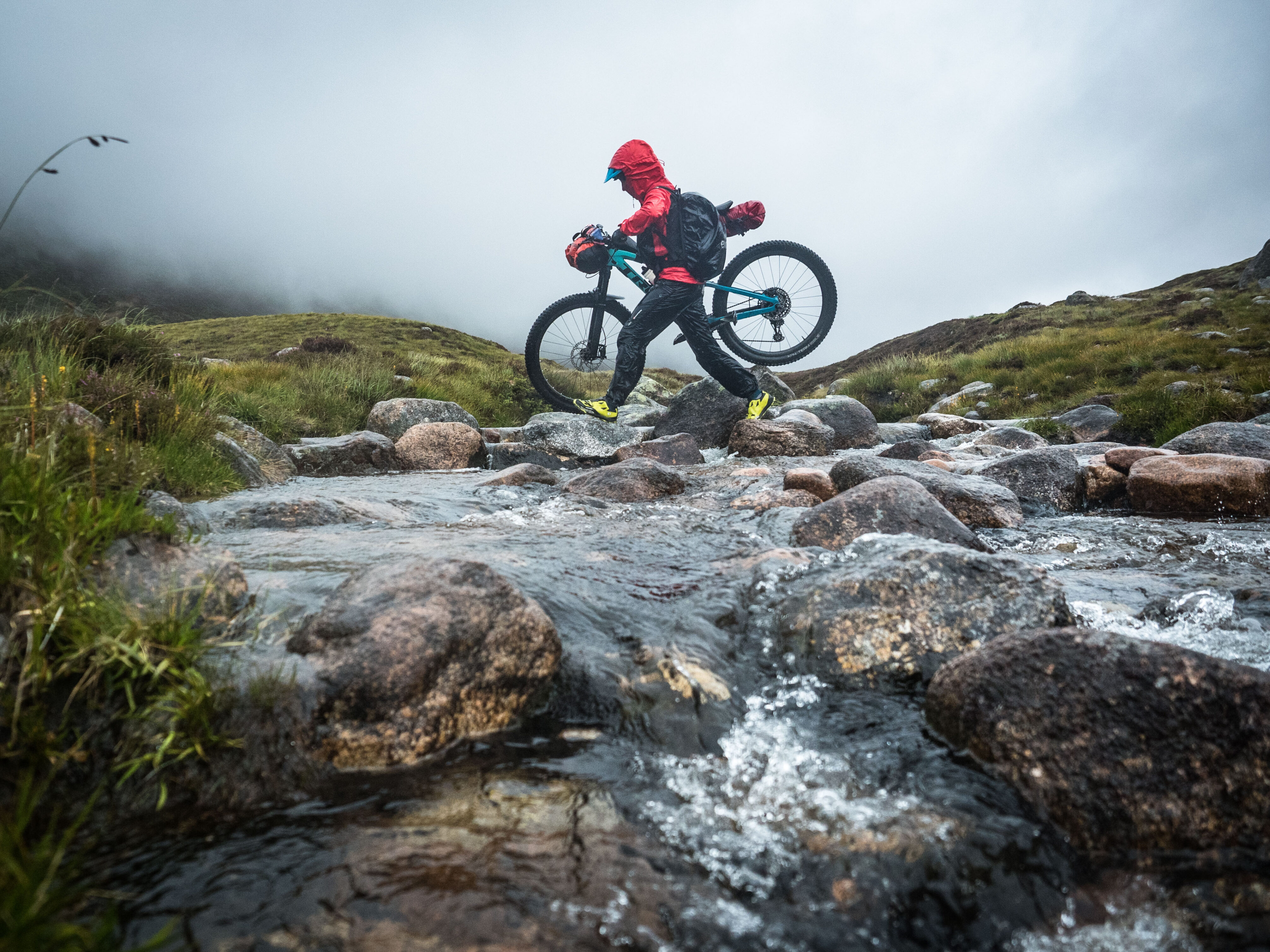 Gimme Shelter!
People also regularly ask us about shelters. If you're racing and looking to save every gram then a bivvy bag might be the most appealing form of shelter. They're light, compact and quick to set up/take down. However, they're also colder, wetter and less midge-proof than a tent, which leads to a poorer night's sleep and less effective legs the following day! Tarps have similar pitfalls to bivvys. As for hammocks, don't expect to find enough trees in the Highlands!
If you're touring the route and looking to enjoy some peaceful downtime in the evenings while you soak up your surroundings, then a tent is the more comfortable choice of shelter: one with a bath-tub floor and a decent midge net. You're also more likely to already have one, or be able to get further use from it once your HT550 adventure is over! They're not always much bulkier/heavier than a bivvy either, with this example from Six Moon Designs being one of our favourite budget options. If you can justify the extra outlay, Hyperlite Mountain Gear produce outstanding shelters from DCF, that are both stormproof and exceptionally light. We've been using the UltaMid 2 and Dirigo shelters on lightweight adventures for the last couple of years, and absolutely love them.
It's also worth noting that the HT550 frequently passes through small settlements where you can take a night out of the weather and book into some accommodation. Fort Augustus, Contin, Oykel Bridge, Kylesku, Kinlochewe, Strathcarron, Dornie and Fort William all offer basic services. If tough conditions are getting you down, a good meal, a warm bed and dry socks in the morning all help to give a brighter perspective.
Build up to the challenge
You might well be attracted to the HT550 because of the challenges it throws at you. Finishing a 550-mile route across the Highlands is never going to be esy, and therein lies the satisfaction. But, the key to taking on any big challenge is to approach it in manageable chunks. If this is your first bikepacking trip you're going to be dealing with a whole host of challenges all at once — fitness, gear choices, dealing with weather, navigation etc. — with the result being your chances of success might suffer. Likely the most common reason for folks not managing to complete the route is that they didn't give themselves a chance to practice and consolidate the required skills on smaller adventures first.
One great route in our backyard tat lends itself to a HT550 warm-up is the Cairngorms Loop. In fact, completing the Loop is one of the pre-requisites that Alan accepts before allowing folks to sign up to the HT550 group start! It's shorter than the HT550, but no less remote and challenging. This tour of the Cairngorms should be on your list anyway, but makes a very good 'stepping stone' on your build up to longer adventures. Stay tuned for news of a guided Cairngorms Loop adventure to be offered by Backcountry later this year, and get in touch if this sounds up your street! Our Bikepacking Weekender courses are another way to upskill and 'adventurise' your riding, where we combine a bike-based adventure in the Cairngorms with looking at the tricks and tips that have made our bikepacking lives easier over the years. For those looking to ride further and faster than they have before, our course of the same name is aimed to helping you to become more confident and efficient on long rides.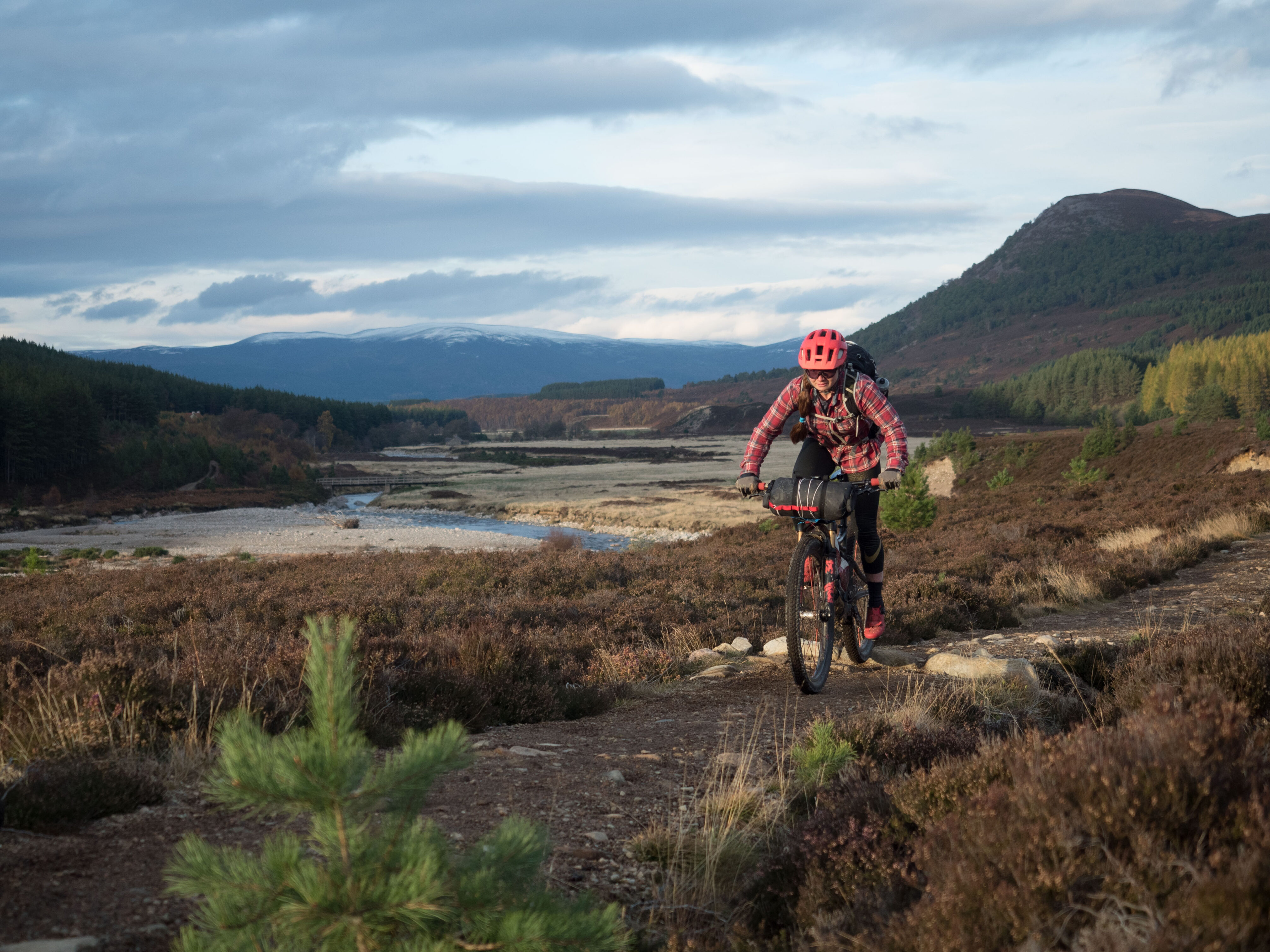 Learn by doing
This last tip is a continuation of the ideas above — we love the sense of achievement that comes with completing a big route, but to us bikepacking is about more than that. It's about the continual journey of doing, struggling and learning from experiences. It's a process that never stops! After any adventure, we can always sit down and ask ourselves what worked, what didn't, and what we might try to do differently next time. It's a case of being curious, open to new experiences and willing to do things that make us uncomfortable. 
So, tinker, fettle and experiment! Ride into the night, try a new route, or ditch the gels and roll a whole pizza up in your back pocket (you can have that tip for free). There's truth in the old saying that you should look forward to the journey rather than the destination.  It's a surefire way to end up on unexpectedly amazing adventures. Along the way you'll realise that you're capable of much more than you thought you were.