Packrafting Adventures!
If you are looking for more than a training course or are looking for hire and guiding for a big trip we can put together a bespoke itinerary to your requirements, or can suggest some amazing places to fully make use of the packrafts and show you the amazing landscape Scotland has to offer. Please browse through our online course calendar for dates.
To whet your appetite below are some trip ideas;
Knoydart – access the rough bounds using a packraft,be it for biking otherwise inaccessible trails or climbing wilderness mountains.
Inverpolly – this place is where packrafts were designed to travel through! (Scroll to see more!)
Loch Maree – an amazing place steeped in history: paddle to islands with Viking graves or link all the 'blue bits' together.
River descents – from a single stretch to a full source to sea descent of some of the UKs longest rivers such as the Spey.
Inverpolly Two Day Packrafting Adventure
Inverpolly has long been the 'go to' place for hardened canoeists who are not afraid of hard portages.  The wilderness packrafting and awesome scenery are truly world class.  This is the perfect area for packrafts to excel in, suddenly even the hardest portages are little more than a gentle walk with your boat in your rucksack.
With easy transport links to Inverness you can be doing the usual rat race thing one day, then be getting issued with your rugged hand built Alpacka adventure boat the next ready to immerse yourself in Inverpolly's wilderness.
We do have dates planned but can also run events on demand.  Contact us to discuss dates.
Cost is £245 pp based on 3 people and includes all technical paddling equipment and transport from Aviemore or Inverness but does not include your lightweight overnight kit or food (but we can hire limited quantities  if required)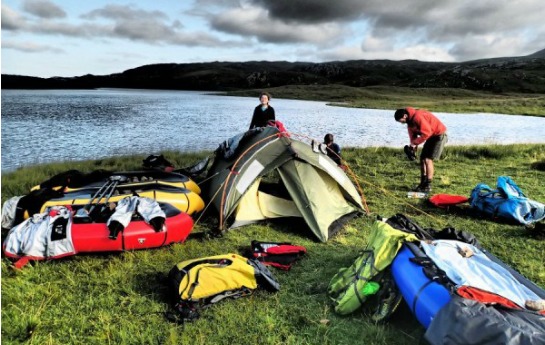 This two day trip has been designed to teach ultra light backpackers the skills needed to journey with a packraft.  making good safe decisions with regard to the weather and water conditions, while being immersed in the amazing area of Inverpolly.
If you are already signed up to the 'light and fast' philosophy, this two day trip aims to give you the knowledge to take your adventures to the next level using a packraft.
The portages are short, the paddling is mellow but the scenery will blow you away. There is no where else on this Island that can match Inverpolly for it rugged beauty, you will come away from this mini epic feeling like a seasoned adventurer returning from the far corners of the globe.